Description
When we speak of love !! There are people who talk and another who do! I am blown away with my last meeting: Laxmi Kandel and her husband Him, they live in Kathmandu, they have to date adopted a dozen children, some found in the street, others rescued from a terrible fate (sales two girls in India) short, they do not have much (financially speaking) but the biggest heart ease. They ensure to give a better destiny (love of a family and school education) has these beautiful beings of light. Here I am hopeful face so compassionate and not individualism.
THE PROJECT is to help them save a little girl of 13, Samjana THAPA, who has heart problems, her parents want her to marry soon because they can not afford, Laxmi could take her in her family, if the help finding sub for food and school fees ...
Who am I?
I'm Nadia, traveler for almost 6 years in Asia, dreamy nature. I make jewelry with love to meet my needs that I sell on my way! Among my most beautiful experiences, volunteering occasionally performed in orphanages, villages, all with children. My greatest luck, learning to be placed in the heart, not the head. Thanks to hours of meditation and Eastern teachings. Often we feel small against big problems so it does not matter, but little by little the bird makes its nest! So I quickly realized that I could be the change! So why not help people who help people, then we become older! SHARE is to love, love is all! I love you !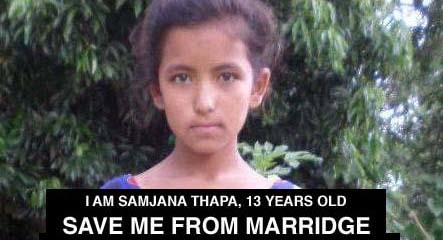 Describe your project goal
The collect will ensure to LAXMI an income to financially assume SAMJANA at least ten months. Mainly she will be able to buy a little more food and send her to the school. I was myself in their apartment, they live with the bare minimum, but this is enough to ensure the happiness of children namely: love and the greater the chance of an education. After discussion with Laxmi, I told her that maybe I could raise money, but not so much, so what will you do after ten months?
As often in the East, people live in the moment, so she tells me, it will be time to find other financial resources, the urgency is to avoid a wedding that will be held soon if nothing is done!